The TRUTH About Child Trafficking, What Every Community Must Know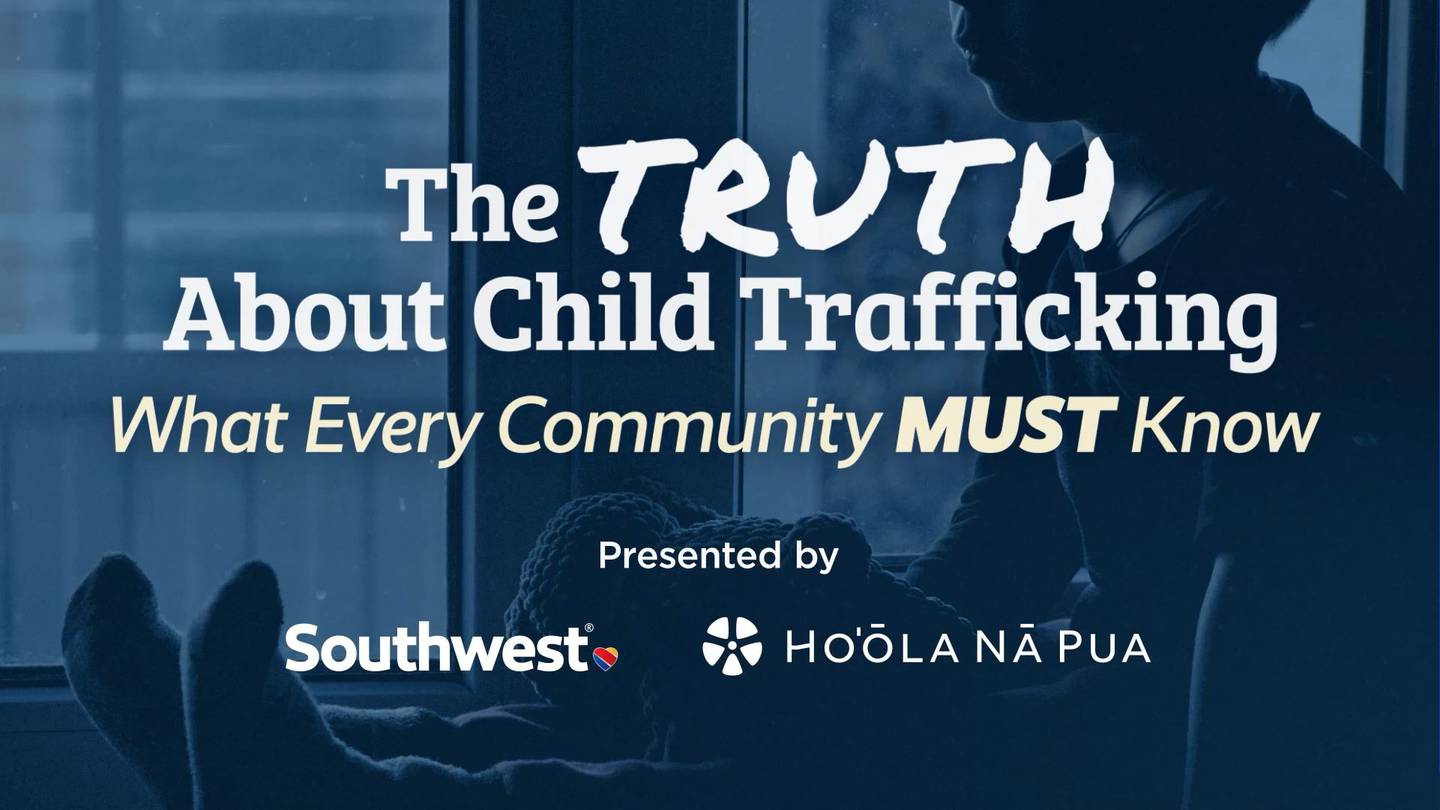 Presented by Southwest Airlines® and Ho'ōla Nā Pua | HI Now
Series Synopsis:
On HI Now, we're uncovering the staggering truths about child sex trafficking in the islands and highlighting the progressive response of local non-profit, Ho'ōla Nā Pua. Their mission is to 'shine the light' on exploitation in Hawaii, while providing trauma-informed care and raising community awareness and advocacy to end this crisis. HNP offers statewide integrated programming that serves thousands of exploited and at-risk youth each year; raising the standard in the global effort to stop sex-trafficking, permanently.
Meet the Founder of Ho'ōla Nā Pua and her committed team; learn more about the issues that plague our most vulnerable population, and what the community can do today to safeguard our keiki. Hear from a survivor advocate and Prosecuting Attorney for the City and County of Honolulu, Steven S. Alm about why this issue must be addressed as a united effort.
Viewer Advisement:
We understand that the content of this program and its conversation may be sensitive for some viewers. You are not alone and organizations like Ho'ōla Nā Pua are here to help. If you or someone you know needs support, please visit www.hoolanapua.org to learn more.
In Danger, Need Help, Or Know Someone Who Does?
National Human Trafficking Hotline: 888.373.7888 or text HELP to 233733
State of Hawaii Child Protective Service

Child Welfare Services Hotline 808.832.5300 (24/7)
CWS Neighbor Islands 888.380.3088 (24/7)

Ho'ōla Nā Pua, Main Office: 808.445.3131
Ho'ōla Nā Pua, Pearl Haven: admissions@pearlhavenhawaii.org or 808.900.8740
ABOUT SOUTHWEST AIRLINES® CO.
Southwest Airlines® Co. operates one of the world's most admired and awarded airlines, offering its one-of-a-kind value and Hospitality at 121 airports across 11 countries. Having celebrated its 50th Anniversary in 2021, Southwest took flight in 1971 to democratize the sky through friendly, reliable, and low-cost air travel and now carries more air travelers flying nonstop within the United States than any other airline1. Based in Dallas and famous for an Employee-first corporate Culture, Southwest maintains an unprecedented record of no involuntary furloughs or layoffs in its history. By empowering its more than 61,0002 People to deliver unparalleled Hospitality, the maverick airline cherishes a passionate loyalty among as many as 130 million Customers carried a year. That formula for success brought industry-leading prosperity and 47 consecutive years of profitability for Southwest Shareholders (NYSE: LUV). Southwest leverages a unique legacy and mission to serve communities around the world including harnessing the power of its People and Purpose to put communities at the Heart of its success. Learn more by visiting Southwest.com/citizenship. Southwest is also continuing to develop tangible steps toward achieving carbon neutrality by 2050, including offering Customers an opportunity to help the airline offset its carbon emissions. To be part of the solution, visit Southwest.com/wannaoffsetcarbon.
1) U.S. Dept. of Transportation most recent reporting of domestic originating passengers boarded
2) Fulltime-equivalent active Employees
3) 1973-2019 annual profitability
About Ho'ōla Nā Pua
Ho'ōla Nā Pua (New Life for Our Children) was founded as a 501(c)3 to shine light onto the dark criminal enterprise of sex trafficking, placing the health of Hawaii's youth at the center of our mission and our vision for our community. We are committed to the prevention of child sex trafficking and providing care for children who have been exploited. Ho'ōla Nā Pua (HNP) is dedicated to creating a community where children are safe and can embrace their bright futures. Today, not only does HNP offer integrated programming that reaches thousands of youth, community members and stakeholders across the state of Hawaii annually, but it is also considered a national partner and a rising standard in the global effort to stop sex trafficking, permanently.
Call to Action
To become a Sustaining Donor for Ho'ōla Nā Pua [EIN #46-5139164] please visit: https://hoolanapua.org/donate
Stay connected and learn more on the issues and solutions https://hoolanapua.org
Facebook: https://www.facebook.com/hoolanapua
Instagram: @hoolanapua
Copyright 2022 KHNL. All rights reserved.